Fighting Skills
Muay Thai- 'Muai Thai' is a combat sport from the muay martial arts of Thailand that uses stand-up striking along with various clinching techniques. This physical and mental discipline which includes combat on foot is known as "the art of eight limbs" because it is characterized by the combined use of fists, elbows, knees, shins and feet, being associated with a good physical preparation that makes a full-contact fight very efficient. Muay Thai became popular in the sixteenth century, but became widespread internationally only in the twentieth century, when practitioners defeated notable practitioners of other martial arts.
Chinese Kenpo/Kung Fu- "Kung-fu" is a primarily unarmed Chinese martial art resembling karate.Wudang Martial Arts were created based on the Taoist ideology. Taoism holds that there are basic, everlasting and supernatural principles in the earth which are called "Tao" suggesting softness, quietness, emptiness, unification, fairness and harmony. All these can be presented according to Tai Chi, Yin and Yang, the Five Elements (water, gold, fire, wood and earth) and the Eight Diagrams tactics. Under the direction of these philosophical theories, this Kung Fu style gains good effects in the boxing and sword skills.
Jujustsu- A Japanese martial art and a method of close combat for defeating an armed and armored opponent in which one uses no weapon or only a short weapon. The word jujutsu is often spelled as jujitsu or ju-jitsu. It is also known as Japanese ju-jitsu.
"Jū" can be translated to mean "gentle, soft, supple, flexible, pliable, or yielding." "Jutsu" can be translated to mean "art" or "technique" and represents manipulating the opponent's force against himself rather than confronting it with one's own force. Jujutsu developed among the samurai of feudal Japan as a method for defeating an armed and armored opponent in which one uses no weapon, or only a short weapon. Because striking against an armored opponent proved ineffective, practitioners learned that the most efficient methods for neutralizing an enemy took the form of pins, joint locks, and throws. These techniques were developed around the principle of using an attacker's energy against him, rather than directly opposing it.
There are many variations of the art, which leads to a diversity of approaches. Jujutsu schools (ryū) may utilize all forms of grappling techniques to some degree (i.e. throwing, trapping, joint locks, holds, gouging, biting, disengagements, striking, and kicking). In addition to jujutsu, many schools teach the use of weapons.
Today, jujutsu is practiced in both traditional and modern sport forms. Derived sport forms include the Olympic sport and martial art of judo, which was developed by Kanō Jigorō in the late 19th century from several traditional styles of jujutsu, and Brazilian jiu-jitsu, which was in turn derived from earlier (pre–World War II) versions of Kodokan judo.
Karate- A martial art developed in the Ryukyu Islands in what is now Okinawa, Japan. It was developed partially from the indigenous martial arts of Ryukyu Islands (called te (手, literally "hand") and from Chinese kenpo. Karate is a striking art using punching, kicking, knee strikes, elbow strikes and open hand techniques such as knife-hands, spear-hands,and palm-heel strikes. In some styles, grappling, throws, joint locks, restraints, and vital point strikes are also taught. A karate practitioner is called a karateka (空手家).
Hand-to-hand Combat- (sometimes abbreviated as HTH or H2H) is a lethal or non-lethal physical confrontation between two or more persons at very short range (grappling distance) that does not involve the use of firearms or other distance weapons. While the phrase "hand-to-hand" appears to refer to unarmed combat, the term is generic and may include use of striking weapons used at grappling distance such as knives, sticks, batons, or improvised weapons such as entrenching tools. While the term hand-to-hand combat originally referred principally to engagements by military personnel on the battlefield, it can also refer to any personal physical engagement by two or more combatants, including police officers and civilians.
Combat within close quarters (to a range just beyond grappling distance) is commonly termed close combat or close-quarters combat. It may include lethal and non-lethal weapons and methods depending upon the restrictions imposed by civilian law, military rules of engagement, or ethical codes. Close combat using firearms or other distance weapons by military combatants at the tactical level is modernly referred to as close quarter battle. The U.S. Army uses the term combatives to describe various military fighting systems used in hand-to-hand combat training, systems which may incorporate eclectic techniques from several different martial arts and combat sports.
Kenjitsu- Sword mastery to such a point he can duel wield or fight with a weapon in both hands.
Unique to Him
Rowdy is a Online MMropg that engages in a unique battle system and environment.
Rowdy Information-
One Handed Sword Skills- Mastery/Completed
Dual Blades- Master/Completed
Martial Arts- Master/Completed
Blade Throwing-Master/Completed
Parry- Completed/Mastery
Battle Healing-Master/Completed
Searching- Mastery/Completed
Sprint-Mastery/Completed
Extended Weight Limit- Mastery/Completed
First Aid
Fishing- 604/1000
Level 145
Hp: 75500
Main Equipment-
Excaliber-(One Handed Straight Sword-Secert Dungeon reward)
Black Rose Sword-(One Handed Straight Sword-Main dungeon reward)
Stormfall- (One handed straight sword. Crafted out of rare metal from boss fight on level 89)
Armor of Shadows-(Solid skin tight body suit awarded as boss drop on level 65, Hides stats and status from other players.)
Robe of Fire- (Crimson Kimono- Boss drop on level 72 resistant to fire)
Red phantom-(Single right arm guard- Boss drop level 45 protects right arm as a shield)
FN- Five-Seven- A semi-automatic  pistol used in close distance to the enemy. ((Store buy on level 45))
Kunai- Small throwing blades that have a finger loop on the back of them they don't due a lot of damage unless they hit a major artery.....but with his aim they always hit what he's aiming for. ((Store Buy on level 20))
Shuriken- Small throwing blades that are often called ninja stars. Like the Kunai he has talented aim at them. ((Store buy on level 20))
One handed Sword Techniques-
Horizontal-A simple single handed horizontal sword strike.
Horizontal Square (4-stroke technique) Four sword strokes in quick succession seemingly at once that leave an arc of light of the blade due to speed of movement forming an 'square' around him.
Slant- A single slanted sword strike
Spinning Shield- Spinning one blade before him to block oncoming magic or bullet attacks.
Sonic Leap- High speed speeding leap followed with a strong sword strike all seemingly at once moving at the speeds of sound.
Vertical- A single vertical slash
Vertical Arc- The first hit of the skill is a diagonal slash from top-left to bottom-middle. As the sword approaches the floor, the user quickly readjusts their wrist and performs another diagonal slash from bottom-middle to top-right. The combined trajectory of the two hits looks like the Latin letter "V".
Vorpal Strike- consists of a single ultra high-speed and powerful thrust and induces a long delay after a player uses the skill. However, the reach of this Sword Skill is double that of the actual blade, possibly damaging more than 1 target if they are close together, and its power is comparable to that of a two-handed heavy pole-arm, which is more than enough to make up for the long delay.
Snake Bite- consists of a single ultra high-speed and powerful thrust and induces a long delay after a player uses the skill. However, the reach of this Sword Skill is double that of the actual blade, possibly damaging more than 1 target if they are close together, and its power is comparable to that of a two-handed heavy pole-arm, which is more than enough to make up for the long delay.
Rage Spike- A single handed sword techinque packing a so much force the blow not only knocks back the one it hit doing damage but covers a large radius with thrust.
Whirling Current-  is a 1-hit Two-handed Straight Sword Cyclone is activated by the user holding their sword with both hands at the right of their waist. The skill is a two-handed spinning sword slash that consists of a single upwards diagonal slash from right to left with two hands holding the sword.
Dual Blades Sword Skills
Double Circular- Two handed sword skills in a double rotation.
Starfire Stream-The first hit is a horizontal swing from left to right with the right sword, immediately followed by an uppercut with the left sword. The user then jumps up and slashes the target with both swords from left to right while spinning, twice. The user lands facing the target and slashes an X from top to bottom, before inversely slashing the X again from bottom to top. The user then leaps at the target and makes two diagonal slashes from the same starting point, with the left sword heading from top to bottom to the left, while the right sword heads from bottom to top toward the right.
Afterwards, the user reverses his grip on the two swords and slashes another X with both swords from top to bottom. The user then does a barrel-roll like maneuver while slashing at the target, like a corkscrew. The user then slashes another two X's at the target, first from top to bottom and then bottom to top. The user then makes a diagonal slash with the right sword, top-right to bottom-left, then spins left and uses this momentum to deal a horizontal, right to left slash with the left sword. The user then, at a very high speed, makes an uppercut with the right sword; then another with the left sword, a downward slash with the right sword, then a downward diagonal slash towards the right with the left sword, spins and repeats the previous attack, and thrusts the right-handed sword out. The final slash is a forceful downward lunge with the left sword.
Eclipse- Yet to be perfected.
Outside System Skills
Spell Blast- Interception of a spell using a Sword Skill.
Skill Connect- Chaining multiple one handed weapon Sword Skills.
Hupersense- Able to sense the "Killing Intent" of another player.
Bullet Deflect- Using sword skills he can cut down bullets flying at him by being able to predict the path of the bullets.
Distinguish- By Eliminating or focusing past background noise on an unnatural or certain sound of another players movements.
Weapon(s) Information
Name:
Holy Sword Excalibur
Type:
sword which cut all of steel and tree
Description:
Excalibur was forged by the god of blacksmiths, Völundr. King of the Frost Giant tribe «Thrym» once transformed into a wolf and infiltrated Jötunheimr to steal it. He then threw Excalibur into «Urðr's Spring», a lake at the center of Jötunheimr where it impaled the World Tree and cut off its roots. At that moment, Jötunheimr lost the blessings from the Tree and quickly degenerated into a barren wasteland of frost. As the roots of the tree retracted to Jötunheimr's canopy, the frozen lake was pulled up along with the roots. Thus the large mass of ice reached the canopy of the world, where the ice dungeon was formed and later fashioned into Thrym's castle, Thrymheim. The great sword Excalibur, after impaling the roots of the Tree, became stuck at the bottom of the ice structure, where it keeps it from melting and the roots of the World Tree from regrowing
Strengths:
The Sword has no weakness's in the game as it is able to cut through all forms of metal and wood as if it was nothing but butter.
Weaknesses:
None
Abilities:
An Enchanted metal sword that can only be weilded by the one who completes the hidden dungeon for it. As such it is not a weapon he uses often if at all unless he has to. As it cuts through everything in it's path and gives an unfair advantage. His goal in gaining the blade was to keep it out of the hands of people who would use it to slaughter others endlessly and become unstoppable.
Image(s):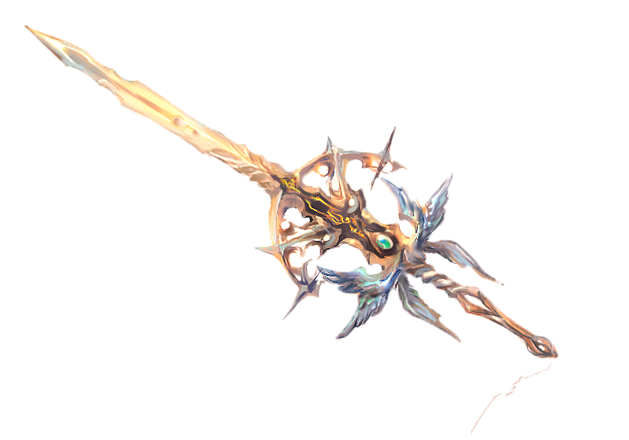 Name:
Blackrose
Type:
Thing single handed sword
Description:
Solid black from hilt to blade
Strengths:
Cuts through most things including magical spells, bullets and depending on the sword skill other weapons.
Weaknesses:
It's a long blade so narrow spaces make it hard to use.
Abilities:
Cutting things, and channeling his powers.
Image(s):
Name:
Stormfall
Type:
Single handed long blade sword
Description:
A solid silver white blade from hilt to blade. Metal was for sword was gained from a boss fight with a dragon were the drop was a rare metal from the game dragon's horde.
Strengths:
Cuts through most things including magical spells, bullets and depending on the sword skill other weapons
Weaknesses:
A long sword so its difficult to use in narrow spaces.
Abilities:
Can channel his powers through the metal of the blade.
Image(s):
Background
History:
Although he was originally born in Gravity City. Having hacked the city system at the age of four but making a mistake and captured to be hooked up into there Central Computer system. Now years later having gotten into Rowdy, and now with an invite he has made the computer at the government believe he's still hard wired in and come to meet the mysterious man who sent him the invite to come to finals of the exam and cross platforms and play on the combat field.....and have some fun that only a couple of Computer Junkies could have.
Upon arrival for the Hunters exam is when his life gets exciting he was the first the year he challenged to play with Mugo impressing him with his immense speed. Near the end not sure what else to do he used the only boa he had purchased and threw it lucking out because of his blade throwing ability and manaaged to chain off his legs knocking him down the up side was the fact that Mugo allowed him as well having been enjoying the high speed game of cat and mouse.
During the third phase with Kichona he gained his list and began moving through puzzling out and finding everything easily on his own thanks to his time in Rowdy on the world maps playing quests and finding games. His ability to search is uncanny.
The fouth phase tested his skills as he had to track one target and find them and find them he did but as luck would have it he was one of the rare ones who target was also his prey an intense battle broke out lasting a total of one minute with him gaining the others badge and then he entered the fifth and final phase.
It is this phase which is the the sol reason for his leaving the governments super computer and coming here upon receiving the invitation. But before the game could be announced one of the other combantants challenged constantly Chaos and ended up upsetting Nerve. The whole affair nearly made Chaos leave him and if not for Neo refusing to move against something as dangerous as Chaos things would have ended badly between Nerve and Chaos but upon speaking Nerve explained a few things and Chaos turned back to him coming back to his side and then the game was beginning to be explained and it didn't amuse him at all.....
In Rowdy he was in the hall of champions the hall for the Worlder's who defeated dungeon boss's. The major ones and he had over fifty five under his belt equal to champion level or contender of the other battle system like them. Like Nerve and Chaos who fought in the contender arena's. Now he had to place on the Leader board to do that he had to fight his way like everyone else from bottom rank up to championship challenge and score high enough there to place in the hall of Warriors. And dominating that board? In both solo and partner battles was Nerve and Chaos.....it was not going to be an easy day.